Sensory Labs works with clients across a wide variety of application areas – aerial imaging, university research, agriculture, inspection, fish counting – just to name a few. Nearly any industry, any task, can benefit from an imaging solution. Check out what we've been up to:
Bat Detection Research
We built a portable image collection system to collect bat imagery. The scientist setup the system in several locations to collect imagery of bats for detection, tracking and census data. The system  collects synchronous data from up to four cameras. Both visible light cameras and thermal cameras are used in the research. This system makes use of very long fiber optic cables so that the cameras can be positioned remotely from the recorder. Currently, the same system design is being deployed for bat, bird, and dragonfly research.
American Sign Language Database
We built a four camera system to record native sign language speakers. The cameras were combined to generate 3D video information. The data was used to create a visual dictionary for American Sign Language (ASL). The dictionary provides a reverse look-up database for translating sign information.  The user signs into the computer's camera. Software searches the extensive database. The most likely sign matches are presented. This method is useful for translating sign into text, as well as, helping people learn how to sign.  If you have a word to express, it's generally easy to find the sign. But, have you ever seen a sign and wondered what it meant? Now you can look it up!
Aerial Mapping – Extreme Environment

Sensory Labs provides high resolution cameras for an extreme environmental application. The OEM wrote the custom recording and mapping software for this application. Sensory Labs provides the cameras, electronic lens control units and consultation.  The cameras are subjected to significant temperature ranges and high vibration while in use. The only damage to any of the cameras was caused by exposure to heavy water run-off. A modification to the housing unit fixes that issue. Dozens of units are deployed.
Autism Spectrum Disorders Research
We built three synchronous six-camera systems capable of collecting imagery, as well as audio, from small classrooms to study stimulus responses in autistic children in their learning environment. The gigE cameras, with power over Ethernet capability, can be installed over 100 feet away from the recording unit.  This flexibility and easy cabling gives the team many installation options.  Lite compression of the video allows for longer recordings. This system also features remote frame tagging capabilities. The specialist, in the room with the child, can use a  small hand-held remote IR transmitter to tag the video. The tag is used for quick recall while reviewing data to find the incident of interest. This novel non-intrusive marking system reduces additional stimulus while aiding the research.
Fish Counting
Sensory Labs was the vision software sub-contractor for a fish counting effort related to fish migration being blocked by a dam. The system uses two techniques for counting fish; a line-scan camera, and a laser sensor for use underwater.  The fish are encouraged to swim into the elevator space. As they pass through a vertical light beam detection area, they are counted. Fish leaving the elevator are also detected and the count reduced. When the elevator space has sufficient fish, the chamber is closed and raised. The fish are poured onto the flume where they are de-watered. Fish pass the view of a second line-scan camera and are counted again as they enter the holding tank. Later, staff sorts the fish into a number of trucks. Some fish are taken back down the river, some are moved above the dam, and others are moved further up the river past additional barriers.
Custom Embedded Systems
Sensory Labs has designed and deployed several embedded camera systems. We make use of single board computers, camera modules, FPGAs, and software (COTS and custom) to build embedded systems for a variety of custom applications.  These systems are designed for cost-sensitive, high-volume projects for OEMs in their area of expertise.
The product shown here is designed for a dental appliation. The system consists of three USB cameras, custom software written by Sensory Labs, and a single board computer. We worked closely with the dental team to design and develop a hand held system that rapidly images teeth and makes percision measurements. Status LEDs confirm imaging and processing are completed correctly.
Brain Research
We supply analog and gigE cameras to a brain research company working in the area of epilepsy. Their data recorders collect information simultaneously from multiple sensors and cameras (from a single camera up to as many as 20). Sensory Labs supplies hardware and consultations with regards to optics, NIR sensitivity, and timestamping , etc.. The latest upgrades to the GigE Vision 2.0 protocol includes a PTP timestamping capability that is allowing for more accurate image time stamping across multiple platforms. This enables our partner to  recall images that synchronize with other system sensors' metadata. The inexpensive integrated solution is a winner.
Wild Life Survey
We designed an airborne system with visible and thermal capabilities to record large animal population (deer and elk) during surveys to verify counts and species identification. The system is human controlled and the vision system is self-contained for use on any vehicle. The thermal images are used to identify populations hidden by the leaf canopy and to help separate animals in close proximity.  The high resolution visible images are essential for species and age identification.
Robotic Measurement and Fault Detection Systems
Sensory Labs consulted for a manufacturer of robotic measurement systems in order to obtain better optical resolution for fielded systems. We achieved the resolution requirements with the simple addition of a filter and change in the lens quality. We also wrote software enhancements and documentation for the inspection process. Line scan cameras were used to get accurate part measurements and detect defects in parts on a conveyer system. The software interfaced with an SQL database for the part specification and to record inspection results. We interfaced with a PLC for strobe triggering,  line speed, and part re-direction on fault detection.  Sensory Labs was able to make the necessary modifications to the client's existing system on an accelerated schedule to meet the end user's specification.
Customization
On some occasions, our clients have specific processing needs that we are able to integrate directly into the camera or frame grabber hardware with collaboration from the manufacturer. Sensory Labs has been able to understand the client requirements, design the algorithm, convey the need and the business case to the component manufacturer, test the solution and provide customized hardware for the end users. These are fun and challenging projects, and we love them.
Farming/Agriculture
Sensory Labs provided recording equipment and interface boards for an agriculture application. The systems consist of a single board computer, visible camera, and thermal cameras. Determinations about the ground moisture and phosphorous (fertilizer) levels are made in real time while the farm equipment is tending the fields.
High Altitude Mapping / Multispectral
Sensory Labs designed a high altitude mapping sub-system capable of capturing NADIR and off-angle looking cameras synchronously for generating detailed group maps. The eight-camera solution is sensitive in 16 spectral bands. Capture occurs during flight. GPS location is utilized to trigger the capture to generate overlapped images for accurate mapping. The image overlap distance is configurable.
Invasive Plant Detection
We built and fielded a dual-image multispectral, visible and NIR, capture and process system to detect weeds remotely. The system runs on a laptop.  On trigger, two images from a single camera are collected and processed to highlight the existence of skeleton weed. The camera contains two sensors that share their view through a single lens keeping the two images perfectly aligned and reducing the computational complexity. The algorithm was developed in-house by Sensory Labs.
Physical Sciences Research
Sensory Labs has built several high speed camera systems for university physics departments. Some systems are capable of taking over 1000 frame per second. That's a lot of data! The physicists can use the data for particle flow analysis.
Pharmaceutical Packaging Inspection
Sensory Labs repaired a fielded system for a large pharmaceutical company after the original vision system manufacturer went out of business. The system stopped working after it was moved to a new location. Sensory Labs was able to adjust the lighting and optics to achieve the original system specification and throughput.  We also updated and enhanced the system documentation and provided user training for a new group of employees.
HD-SDI Broadcast Solutions
Sensory Labs provided HD–SDI cameras in specialized enclosures for airborne data collection applications. The SDI output is both fast, and easy to cable. The single cable solution makes it ideal for use on rotating platforms. The broadcast standard made it possible to use commercial monitors for the data visualization. Having the cameras mounted on the exterior of the aircraft required a ruggedized industrial camera solution.  Ruggedized, low-distortion, wide-angle lenses were also essential for the success of this mission.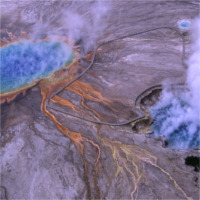 Aerial Imaging
Aerial imaging applications range from large multi-camera systems collecting over 100 megapixels per composite image, to tiny sensors on hand-launched drones. Aerial mapping, 3D terrain modeling, traffic information, precision agriculture, and real estate photography give a sense of the broad use of airborne imagery.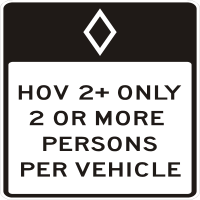 Transportation/Traffic
For intelligent transportation systems (ITS), imaging enables vehicle detection, speed enforcement, and license plate recognition. System requirements for high frame rates, high sensitivity for low light levels, and short exposure times to reduce motion blur continue to drive camera specifications.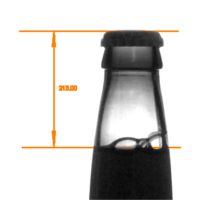 Inspection
If it's manufactured, it needs to be inspected. In-line, 100% inspection boosts quality control. High frame rate, high resolution cameras connected to fast hardware and software make sure that the inspection task is not the bottleneck on production throughput.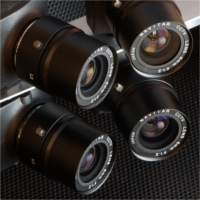 Video Collection
Collection systems record images from multiple cameras with precise triggering for 3D reconstruction, or capturing research experiments such as particle imaging velocimetry (PIV). Imaging up to thousands of frames per second, high speed cameras allow insight into highly dynamic biomedical and manufacturing processes.